Many of the lower cost 3D printers are designed and made in China? That seems to be correct. So therefore the Chinese public in general and school kids in particular will be well versed in 3D printing, and more knowledgeable than youngsters in Europe? That's what we expected but the converse appeared to be true. So how did we discover this?
Earlier this summer, the GSMA held a major show in China. For those who do not know what the GSMA is, it started as the GSM (Groupe Speciale Mobile) in 1982 to design a pan-European mobile technology. It is today the representative body for the mobile telephone companies around the world. At the beginning of July, the Mobile World Congress took place in Shanghai. It was huge. And full of mobile phone companies and suppliers, as you would expect. So what has this to do with 3D printing?
Like many such organisations, the GSMA has an outreach arm, and in their case it is called YoMo. The ambition of YoMo (the Youth Mobile Festival) is "to show all attendees the exciting and rewarding opportunities out there for them in the mobile ecosystem with the right experience and qualifications, by bringing classroom learning to life. YoMo is a fun, free, hands-on educational interactive experience for young people (primarily 10 – 18 years) complete with workshops, theatre shows and deep dive interactive learning experiences that will engage, enthrall and excite." They offered a range of activities and experiences, including the science behind skateboarding, an opportunity for kids to build their own mini robots, and a sound stage with woofers the size of houses, resulting in permanent deafness for all, like us, who worked in that hall.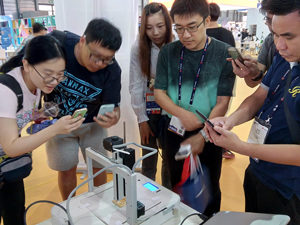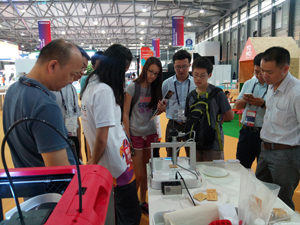 The organisers wanted to engage kids not just with mobile telephone but with a range of STEM and STEAM activities. STEM is Science, Technology, Engineering and Maths; STEM is STEM with the addition of Arts, where "Arts" encompasses creativity and innovation. Delivering STEAM is what we at IT IS 3D do. So we were invited to travel out to Shanghai, courtesy of GSMA, to talk to kids (of all ages – many of the talks were attended by "kids" way past their childhood), present 3D technologies to them, and get them engaged, enthralled and excited. As usual, we succeeded. What was different in Shanghai was the need for translators, our Mandarin being somewhat weak, to say the least. So with the help of Berra, Rodney and one other (not their Chinese names), we
least. So with the help of Berra, Rodney and one other (not their Chinese names), we delivered interest and enthusiasm, engagement, enthralment (does that exist?) and excitement from hundreds of youngsters every day of the show.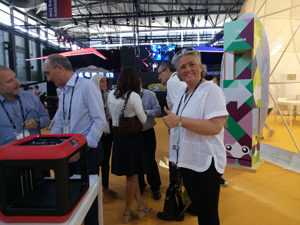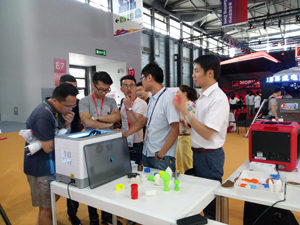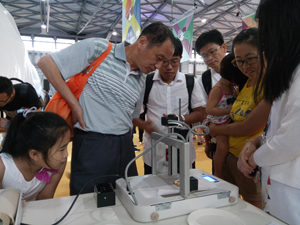 The excitement and desire to learn from the kids and their parents was massive. In Europe, we see interest and excitement at such events, but not like we experienced in Shanghai. They hung on our every word (at least once those words had been translated into Chinese!), and many stayed around for a long time to maximise their experience and learning. The most extreme case was a young boy aged about 10. He and his parents were Chinese but lived in Singapore, and had come to the show because they worked for GSMA. In his case, no translation was needed, thankfully, as he was with us most of the day. With my colleague Trupti's help, he learned to design in 3D CAD, made some interesting designs and we printed a model of one of his designs overnight so that he could collect it the following day.
What did we show them? We had a number of laptops with Autodesk's 123D Design loaded on, we had a David 3D structured light scanning system working, and several 3D printers printing away the whole time. Some of them were Chinese printers, as we are resellers of the Flashforge range of 3D printers, and Flashforge are based just a couple of hours by (a very fast bullet) train from Shanghai. That was useful because it meant that we did not need to transport our demonstrator machines from London to Shanghai. We did bring with us the European designed and made Focus 3D printer, however.
Transporting the Focus was really no problem. It only weighs around 7kg and it folds down into its own suitcase, so I was able to carry it as hand luggage. It's looks and design excited interest; what was even more exciting, and what made some people come back again and again to the stand (and some come over briefly just for the experience) was the fact that we were printing 3D models in cream cheese, and handing out the models to our visitors to eat. The experience was very new for the Chinese – both eating cream cheese and eating 3D printed food. Unfortunately, the fact that we were giving away 3D food samples encouraged some youngsters to play fast and loose with our 3D printed plastic samples, so we lost most of our samples over the course of the exhibition, and even with continuous printing, we couldn't keep up!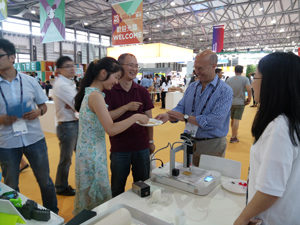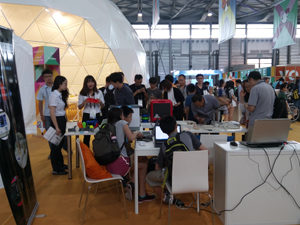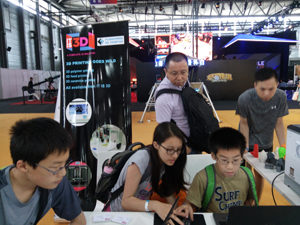 We had a great experience, and so did the visitors to our stand and to the auditorium, listening to my talks – three a day each day (tiring). However, we expected the Chinese to be very familiar and knowledgeable about the technology, but that was not the case. Sure, there were a few individuals who knew their onions, but the majority were seeing and experiencing 3D printing for the first time. We felt that a similar audience in the UK or Europe would be more knowledgeable. So our very long flights and our exhausting time on the stand were both very worthwhile. And as we have been asked to come back, and do the same thing at the next YoMo event in Barcelona next year, it seems that our activity was highly rated and valued by the organisers.
Barcelona is one of the world's 3D hotspots, so it will be interesting to see what the reaction of the visitors there will be. We will have upped our game even more, based on our experience in Shanghai and also the other activities we do over here on a regular basis, so we expect that we will be able to add value even for the local Catalans, and that we will be able to engage, enthral and excite at YoMo Barcelona in 2017.
For more information on IT IS 3D's activities in the world of 3D, please visit our website www.itis3d.com, contact us by phone on 020 8202 8743 or email us at [email protected]
© Martin Stevens and IT IS 3D Ltd, Sept 2016